Vimy Foundation Centennial Park
Features of the Centennial Park
The design was done by Linda Dicaire, Landscape Architect and VOLC volunteer.
4 sided field covering 1.8 hectares.
Low circular wall and hedges enclosing a 100m diameter Vimy Oaks grove symbolizing 100 years (1917-2017) of remembrance with circular paths providing universal access and seating.
The grove: 4 concentric circles of trees forming allées : 1 circle for each Canadian Division who fought at Vimy.
Large circular gathering place at the heart of the grove.
Path with axial view to the Vimy Memorial (view corridor).
Symbolic of a journey from darkness, death and despair (narrow) to light, life and hope (wide).
View corridor captures the morning sun rising behind the Vimy Memorial on November 11th.
Statue of Bugler donated by Canadian sculpter Marlene Hilton Moore stands beside the View Corridor.
Welcome area outside wall with pairs of Vimy Oaks representing the friendships formed between soldiers and between nations.
In Memoriam and Donor recognition wall.
Paved apron on D55(road) invites pedestrians and permits links to a future Liaison Douce (pathway) from Givenchy-en-Gohelle.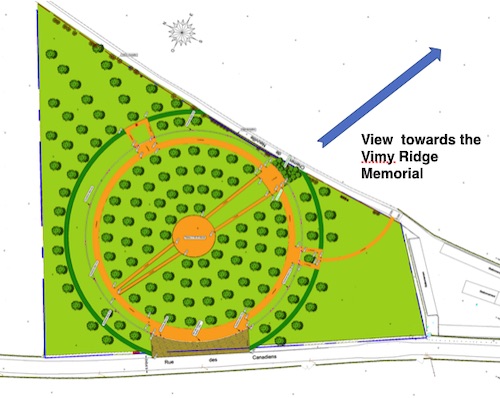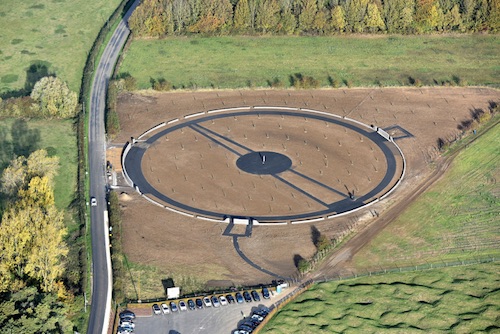 ---